Show route map from
Hidden Valley is a small, family run glamping and camping site located in the beautiful Teme Valley, in a spectacular "you could be anywhere on the planet" setting.

If it's camping under the stars that you're after, then look no further; we boast an enormous night sky - forget the stars, you'll be spotting galaxies! Dawn brings the most amazing spectacle; just as the sun starts to peak through the canvas of your tent, the thousands of birds that you share Hidden Valley with say their good mornings with an unbelievable dawn chorus - something that must be heard to be believed.

As well as the usual camping, we also have 2 fully furnished bell tents which offer a little bit of glamour to those who wish to just turn up and enjoy the beautiful surroundings without the hassle of pitching your tent.

Minimum booking is usually 2 nights, but is 3 nights for bell tents over bank holiday weekends.

PLEASE NOTE: We are a tent only site, and cannot accommodate caravans, campervans or trailer tents.

Things to do























Toilets

Showers

Ice block freezing

Onsite shop

Pets welcome

Local pub
The site currently operates a composting toilet.
Contact : Simon Beverley-Smith
07813 215 704

Email

Website

Reviews

Barak St John
24/07/2018


5/5
Friendly, helpful, flexible.

---
martyn wylde
24/07/2018

4/5
great little get away,I enjoyed my stay there,I took my own tent but they have two well kitted out bell tents if you prefer, they have 1 shower which was very nice and a eco toilet,they have a small honesty shop and you can hire a fire pit which is what I did and cooked my burgers on it. The weather was very hot and there was no shelter which I mentioned to the owner just in passing, that very afternoon he came back with garden umbrellas,problem sorted. If you want peace ,quiet and wild life with bird song in the mornings, get in touch and book a visit I shall be going back that's for sure, I loved it
---
Jessica Earle
26/06/2018

4/5
What a find, long grass, fresh air, sunshine, peace and just enough quiet. We were hoping to pitch our own bell tent, unfortunately there were no tent pitches left but there had been a last minute Glamping cancellation, were we interested? I said yes, ok, seemed a bit bonkers paying the extra as we had all the kit but blimey it was worth it... Took half the time to pack our kit as everythingís already there, bedding, candles, firewood for the little tent stove, fire bowl outside, picnic bench/ table and an absolute winner for a sad old Doris like me, a kitchen shack..complete with a 2 ring gas burner.. Makes a change from juggling pans over an open fire, eyes streaming and sausages gently carbonising..I think Iím becoming soft. It was perfect, just the right side of not too manicured, Family welcome, well organised and we are definitely going again.
---
Mark Cox
25/09/2017

5/5
Had an amazing weekend here with my two young daughters in June this year. The owner greeted us warmly soon after we arrived and drove all our camping gear to our spot, which he helped us pick. No cars on site so the kids were free to run wild - they soon made friends with lambs and loved the little honesty shop, which was filled with useful items we didn't even know we needed! The option for a fire was also much appreciated, particularly when they found some marshmallows to buy! The site is in a beautiful setting, which helped me feel far from my city stresses. This is topped off with an incredible dawn chorus and thousands of birds to watch fly by. We planned to explore Tenbury Wells one day but had so much fun around the site and exploring the woods that we never made it. We'll definately be back next year. The morning we left we were given a hand to take stuff back to the car, and some advice on local cider. Thanks Hidden Valley Camping, you've got abgreat thing going on!
---
Roderick Robinson
17/08/2017

5/5
Had a three night stay at Hidden Valley - site is very nice, just what we wanted from a campsite. The view from our pitch was fantastic and the site was very quiet even with several other campers on site we hardly saw anyone else. Toilets and facilities are clean and work well. So nice to have a campfire and to be able to cook on it. Site staff are very friendly and helpful.
---
1 / 16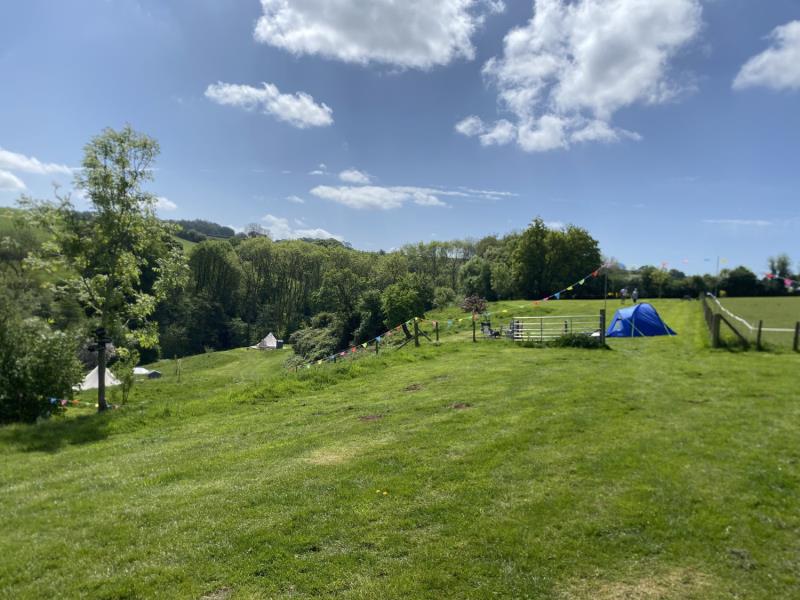 The upper camping field
2 / 16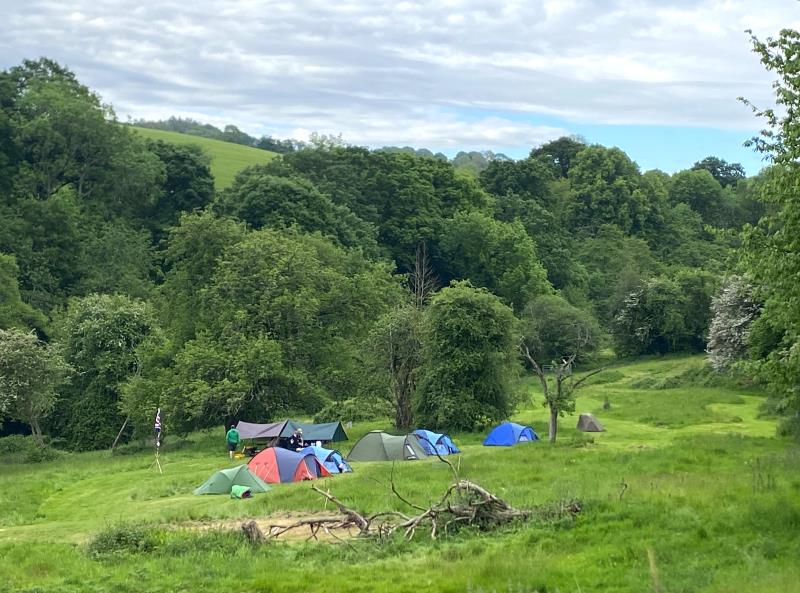 A local Scout Troop making the most of the wild-er side
3 / 16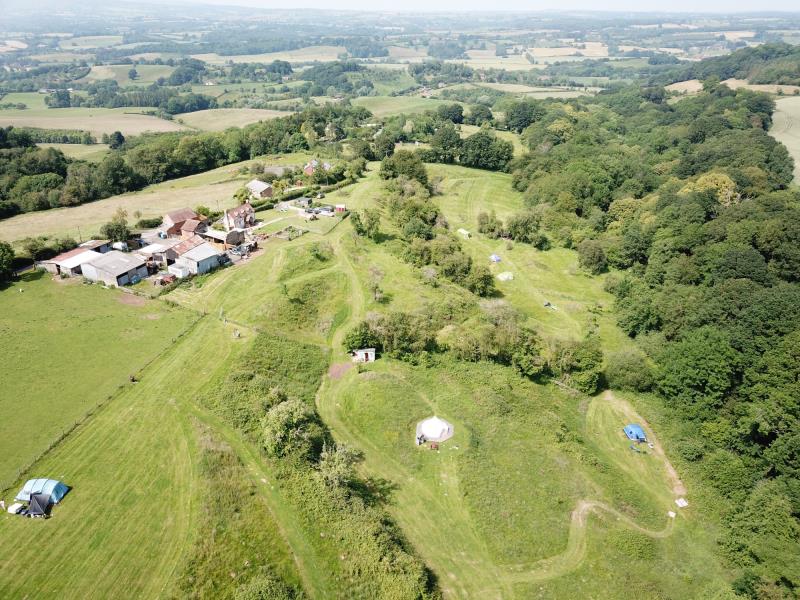 Drone shot
4 / 16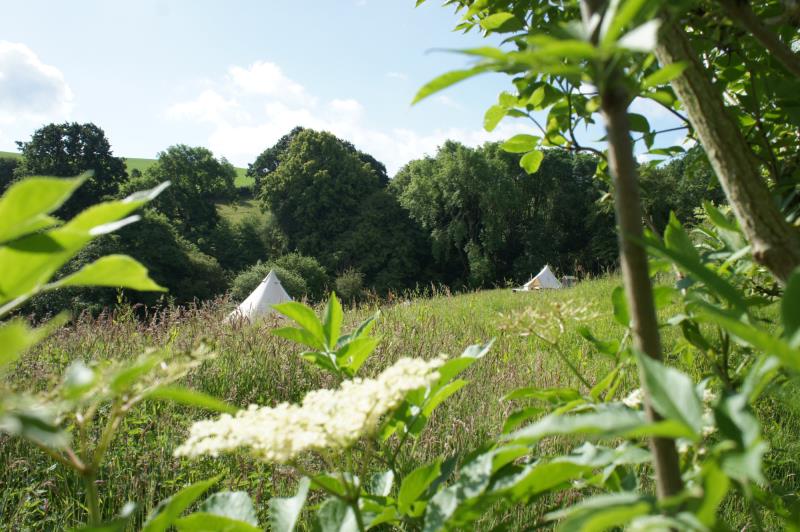 The beautiful bell tents
5 / 16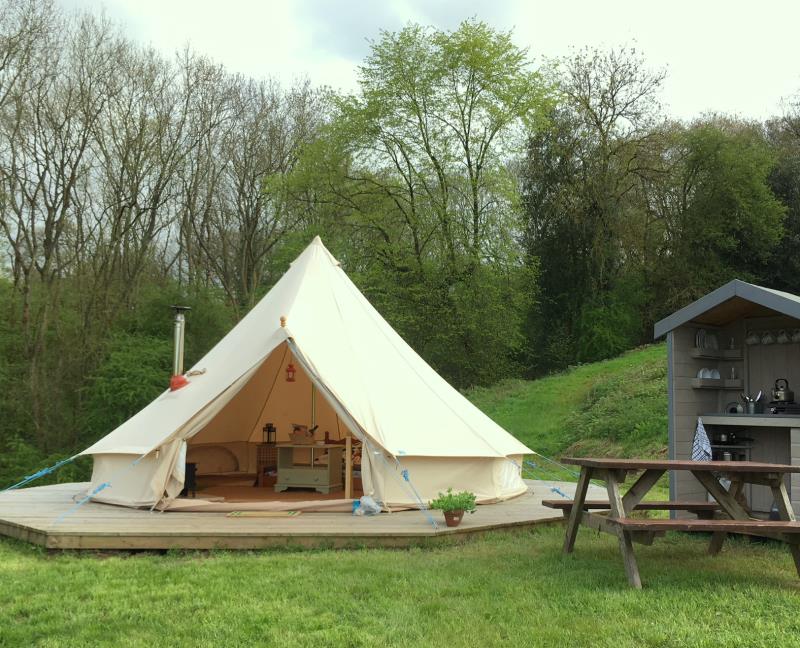 Dingle View Bell tent and kitchen hut
6 / 16
Wildflowers are abundant
7 / 16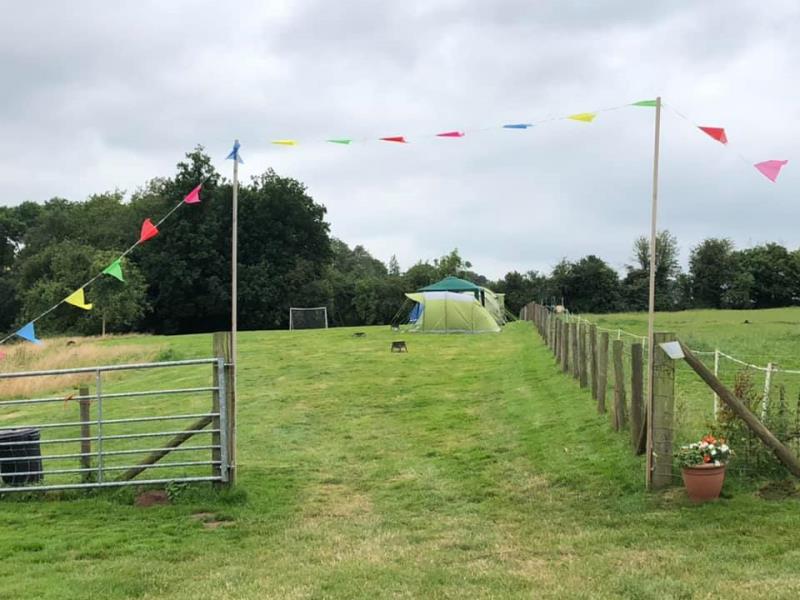 Camping field
8 / 16
Hidden Valley Camping
9 / 16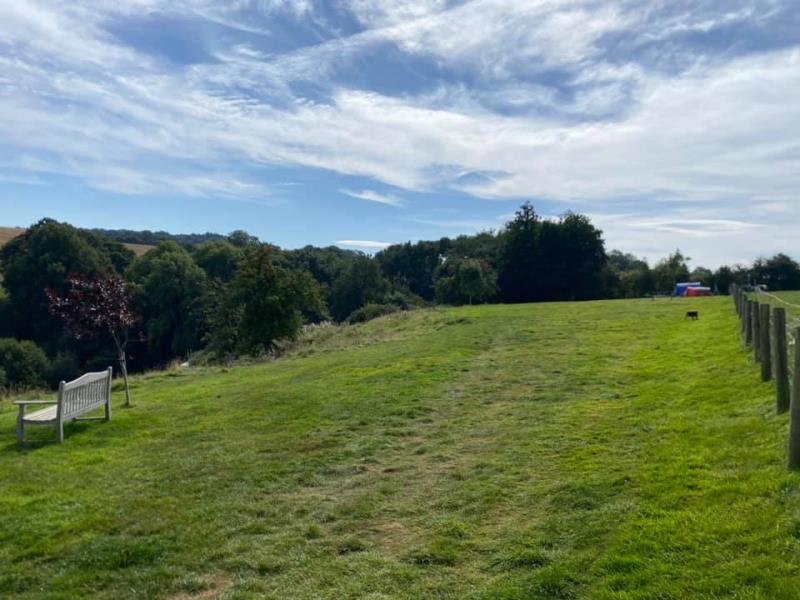 Hidden Valley Camping
10 / 16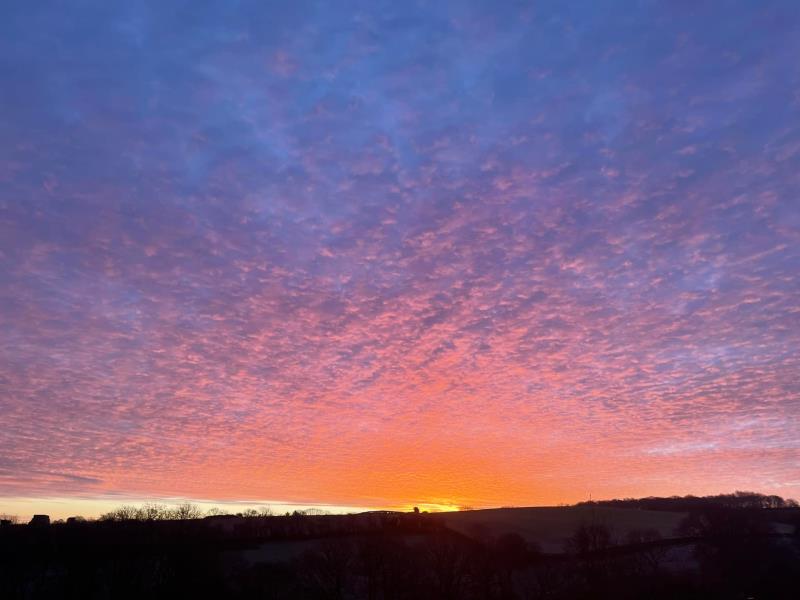 Dramatic sunrise
11 / 16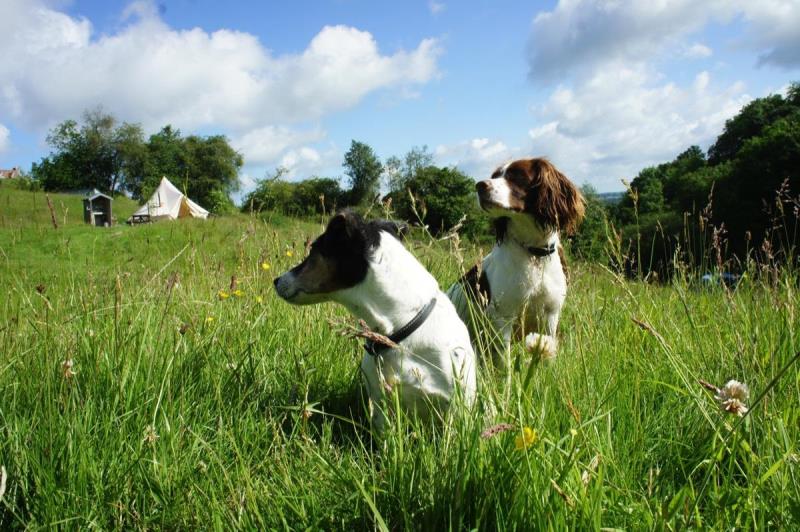 doggles
12 / 16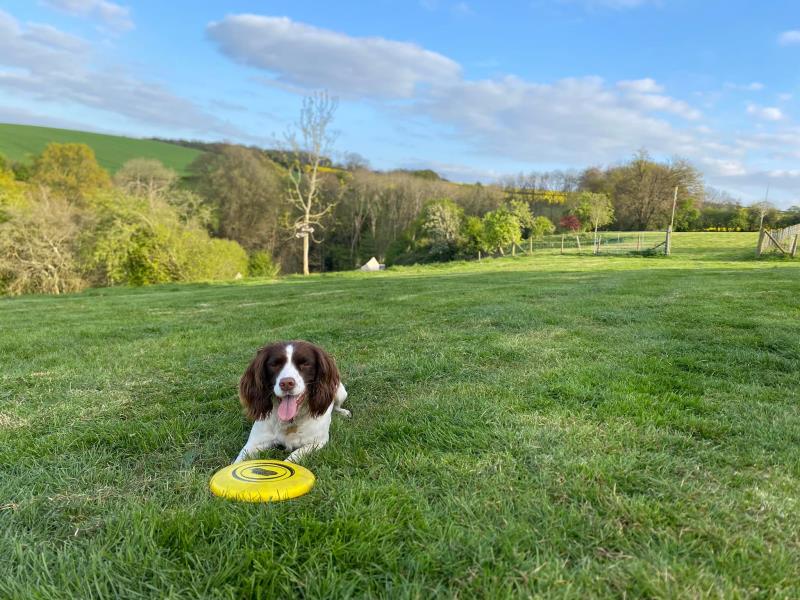 Frisbee time
13 / 16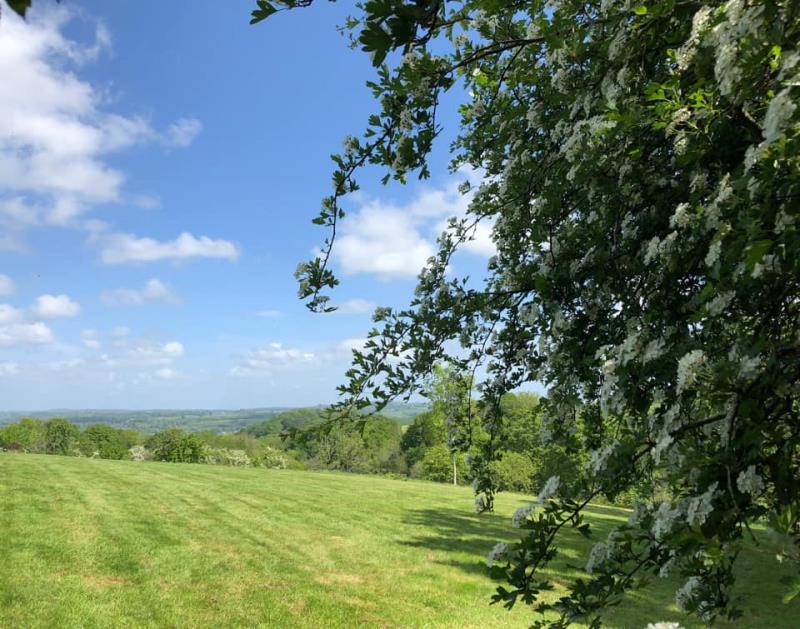 Never ending views
14 / 16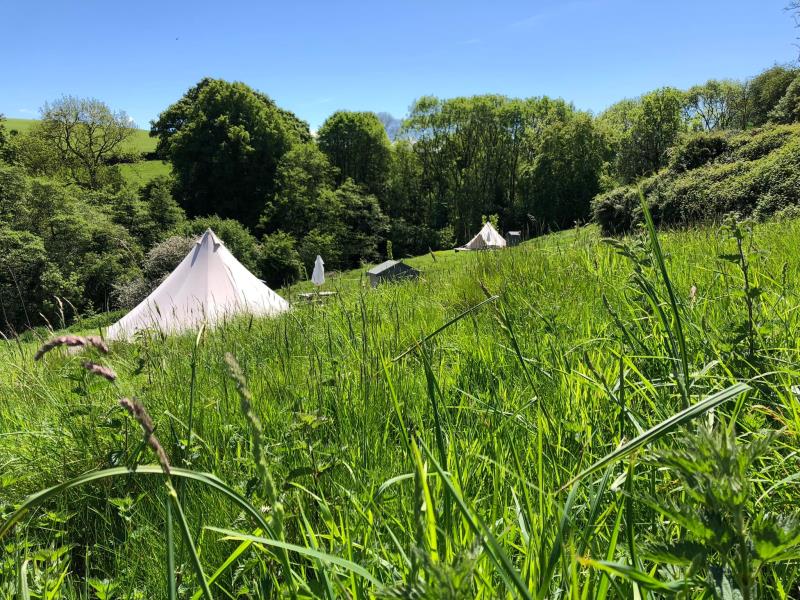 The bells
15 / 16
So much space
16 / 16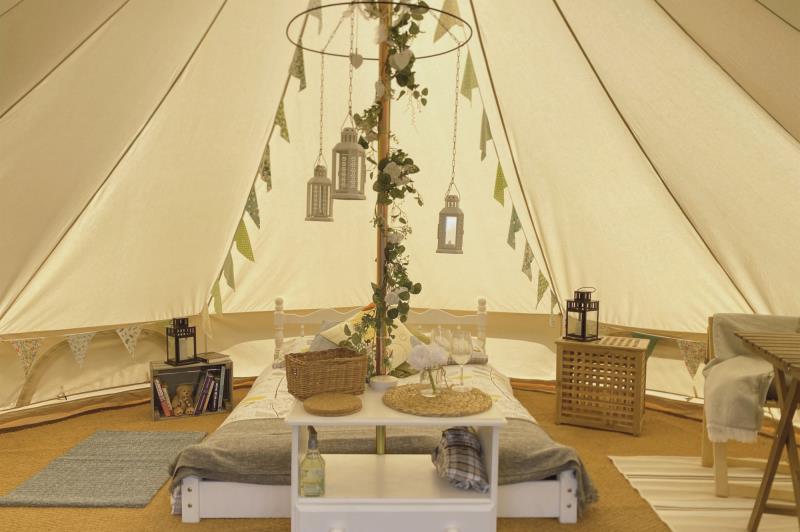 Inside one of our beautiful bell tents
❮
❯